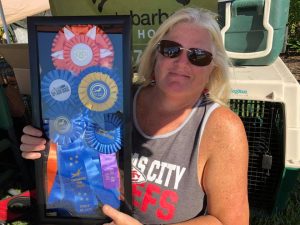 Terri J. Alexander, D.V.M.
Meet our owner, and Veterinarian, Doctor Alexander! Dr. Alexander graduated from Kansas State University, both with her bachelors degree in biology and doctorate in veterinary medicine, in 1994. As soon as she graduated from vet school, she moved from the Kansas City area where she grew up to Southwest Florida! She has a special interest in orthopedic surgeries, and is PennHIP certified and experienced! Doctor Alexander is an avid lover of Labradors, and breeds, trains & competes her dogs in an array of sports; including retriever training for hunt tests and field trials, agility, and dock diving! She also serves on the board for the Animal ER of SWFL, and is a veterinary consultant for Helping Paws Animal Sanctuary, a local non-profit animal shelter. When not at SBAH, Dr. Alexander enjoys spending time with her husband Dave, their adoring pack of labs, and catching K-State & Kansas City Chiefs games!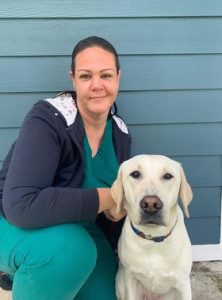 Brenna: Manager
This is Brenna! Her exceptional multitasking and client service abilities have made her a crucial all-star member to our hospital! Having worked in the veterinary field since 2005, she is very knowledgeable and beyond helpful when it comes to organizing our day to day tasks! Brenna's accent quickly gives away that she hails from Massachusetts. Brenna's kind, animal-loving heart has also led her to become a puppy-raiser for Southeastern Guide Dogs; where she raises seeing-eye dogs through their first year of life and provides them the training and structure they need before heading off to "college" for more intensive training; then ultimately their fur-ever family in need. Along with a guide-pup, Brenna share's her home with her two hilarious birds, "Cricket" the African Grey and "Angel" the Cockatoo.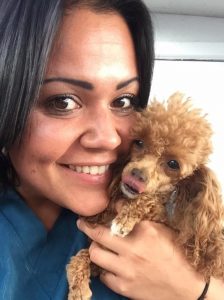 Marilee: Head Technician & Staff Supervisor
Marilee is technician supervisor here at Santa Barbara, and an integral member to our healthcare team! Having over 13 years of experience in the field, Marilee is well versed in the more complicated aspects of veterinary medicine, and assists in advanced surgical procedures as well as heading dental procedures and training team members. Firmly trusted by our doctors, Marilee is a vital member of Santa Barbara Animal hospital, and we are so happy to call her one of our own! Also fluent in Spanish, she has been or tremendous value in helping us to effectively care for the 4-legged family members of our Spanish-speaking community! She has 2 beautiful, smiling baby girls at home, a loving dog named "Pappy" and a sweet kitty named "Toby!"

Ashley, CVA: Veterinarian Technician
Meet Ashley, one of our fantastic technicians! Her future plans include continuing her education and general goals in working with four-legged friends. In addition to already being a certified veterinary assistant through Cape Coral Technical College, Ashley sees patients in our exam rooms daily, is certified in therapeutic laser applications, and also works in veterinary physical therapy! Ashley has a sweet Coonhound mix named "Cayo Costa," a whippet named "Pepper" and a very talkative kitty named "Mako."

Leidy: Veterinarian Technician
This is our lovely Leidy! With her kind soul and compassionate nature, she was born with a gentle touch much valued by all our visitors. Leidy has been trained in assisting with surgical and dental procedures in addition to  seeing many of our patients coming to visit daily! Leidy can't imagine herself outside of working with animals and plans on finding the perfect niche in the field for her long-term career. After long days of hard work, Leidy comes home to her two happy fur-babies, Simba a yellow lab as well as her funny little kitty Akira!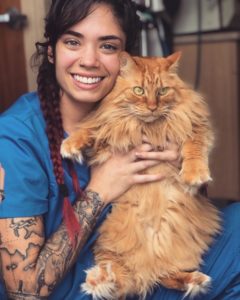 Alexis, CVA: Veterinarian Technician
Meet Alexis! Also known as Leck. Leck has a big heart and loves animals! The veterinary field called to her and she received her certification in veterinary assistance (CVA) at Cape Coral Technical College! Having a goofy personality Alexis has a lot of skills to offer here as well as laughs. Alexis is very useful around the hospital and sees patients in exam rooms daily! Alexis has 1 loving chihuahua named Romeo, and a 3-legged kitty named Gypsy! In the future, Alexis sees herself continuing her work with animals, possibly extending her knowledge into the realm of wildlife and exotic rehabilitation!

Kayla, CVA: Assistant/Kennel Technician
Meet Kayla! With her bright smile and can-do attitude, Kayla has been such a wonderful addition to our SBAH team! Kayla works hard to keep our kennels beautiful as well as assists technicians on the floor daily. Along with being super creative, Kayla is fantastic with animals! She has graduated with her certification in veterinary assistance (CVA) with Cape Coral Technical college! In her free time, Kayla enjoys spending time with friends and family, painting, and hanging out with her hound mix, she recently rescued, named Faith.

 Steven: Kennel Technician
Meet Steven! Younger brother to our Leidy, Steven is and awesome addition to our Santa Barbara Team, and cares for all of our pets on vacation! With his kind heart, excellent work-ethic, and love for animals, it made perfect sense for Steven to start his career with us (and we are thrilled to have him!). Steven currently attends Cape Coral High School and has collegiate hopes for the future. When not at school or work, Steven can be found hanging out with his family and animal friends Scar, Simba and Luna!

       Kianna: Assistant/Kennel Technician
Meet Kianna! Also known as "Kiki" is a great addition to the Santa Barbara team! With her awesome "Go Getter'" attitude and attention to detail she works magic in our kennel. Kianna also is quick to learn new skills and puts them right to use assisting our technicians in their daily tasks. She is currently attending FGCU with aspirations to become an excellent Veterinarian one day. She is one we are very happy to have! Kianna has 4 fur-babies at home and pictured is Millie! Who she rescued right from our Santa Barbara door step.

        Karissa: Head Receptionist
Meet Karissa! With a bubbly personality she is usually the first and last smile you see when you walk into Santa Barbara Animal Hospital! Karissa is from Minnesota and just moved to Florida and we are so lucky to have gotten her as a receptionist! She has a German Shepard at home named Axel, and will love a little extra on any Shepard that walks through our doors! She enjoys working with animals as well as interacting with people on a day to day basis.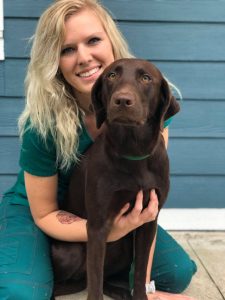 Jordan: Veterinarian Technician
/Rehab Technician/Inventory Manager
Meet Jordan! An essential team member here at Santa Barbara Animal Hospital with her many useful skills. Jordan has a black-lab Shepard mix at home named Chloe, who is spunky and full of energy! Jordan is our inventory manager and makes sure we are stocked with everything we need from a day-to-day basis including supplies and medications. Jordan works hard in our rehabilitation room stretching our furry patients out and helping them get some exercise in our water and land treadmill! Jordan also sees patients in exam rooms daily and helps provide excellent care to our pets.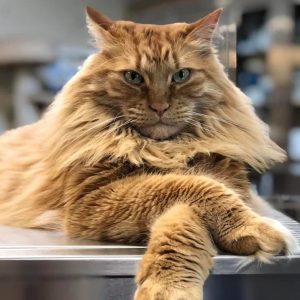 'Fassa: Clinic Cat
If you've been in to see us, odds are you've already met 'Fassa at the front desk! In addition to excelling at general cat things, 'Fassa also has exceptional napping, stretching and purring skills. This fine boy is not only a blood donor for cats in need, but also a good friend and moral support to everyone here at SBAH. You'll likely find 'Fas hard at work in the lobby, cat-scanning general, day-to-day operations, or in the back supervising the staff. While not in his orange fur-suit, 'Fassa enjoys sporting a lion-cut around the hospital. He looks forward to meeting you and your fur-family!