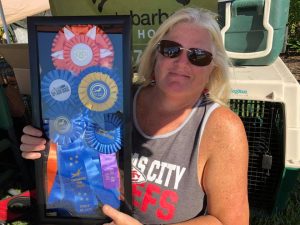 Terri J. Alexander, D.V.M.
Dr. Alexander graduated from Kansas State University in 1986 with a bachelor's degree in Biology. She graduated from the veterinary program at K State in 1994. As soon as she graduated from vet school, she moved from the Kansas City area, where she grew up, to Florida. She has a special interest in orthopedic surgeries and is PennHIP certified. Over the years she has enjoyed training dogs for various venues, including agility, dock jumping, and her latest passion, retriever training for hunt tests and field trials. She also serves on the board for the Animal ER of SWFL and she serves as a veterinary consultant for Helping Paws Animal Sanctuary, a local non-profit animal shelter.
Jamie: Practice Manager
& Physical Therapist
SBAH was Jamie's very first animal hospital, as she joined our team shortly after our beautiful facility was actually built decade ago! Following her husband's Marine Corps enlistment, Jamie moved to Baltimore and spent those years specializing her veterinary education in the field of physical therapy, and started her first rehab center. In addition to majoring in biology at FSU, she studied veterinary rehabilitation therapy, receiving practitioner training under University of Tennessee programs; as well as many specialized certifications in laser therapy, hydrotherapy, canine massage & more. Jamie now owns a home in the North Cape and is ecstatic to be able to bring all her knowledge and skills back home where it all started! Jamie has a bit of an odd critter-pack at home, which includes "Kuno," a German Shepherd, "Roxii," a min pin," her cats "Maisie & Marko," Scarlette O'Parrot the African Grey, and a pet rat (or 3) with a guaranteed pun in their name!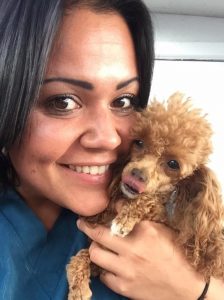 Marilee: Head Technician
Marilee is one of our top Senior technicians here at Santa Barbara and an integral member to our healthcare team! Having over 10 years of experience in the Field, Marilee is well versed in the more complicated aspects of veterinary medicine and assists in advanced surgical procedures as well as heading dental procedures. Firmly trusted by our doctors, Marilee is a vital member of Santa Barbara Animal hospital, and we are so happy to call her one of our own! Also fluent in Spanish, she has been or tremendous value in helping us to effectively care for the 4-legged family members of our Spanish-speaking community! She has 2 beautiful, smiling baby girls at home, and 2 loving pibbles!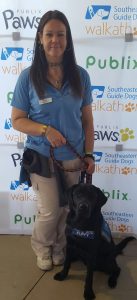 Brenna: Head
Receptionist
This is Brenna! Her exceptional multitasking and client service abilities have made her an all-star team member, and a crucial to our hospital! Having worked in the veterinary field since 2005, she is very knowledgeable and beyond helpful when it comes to organizing our days and handling the front line! Brenna's accent quickly gives away that she hails from Massachusetts, though she is thrilled to live in what she considers the paradise that is Florida. Brenna's kind, animal-loving heart has also led her to become a puppy-raiser for Southeastern Guide Dogs; where she raises seeing-eye dogs through their first year of life and provides them the training and structure they need before heading off to "college" for more intensive training; then ultimately their fur-ever family in need. Along with a guide-pup, Brenna share's her home with her two hilarious birds, "Cricket" the African Grey and "Angel" the Cockatoo.

Ashley: CVA & Technician
Ashley M. has been a fantastic addition to our hospital! We were sure to quickly hire her on a permanent basis after she completed a very impressive internship with us while obtaining her certification as a veterinary assistant.  When asked "Why veterinary medicine?" Ashley is quick to respond with "I feel the best people to take care of animals are  animals themselves!  My passion is more of a life-style, and I love being the voice for the voice-less!" Her future plans include continuing her education, certifications, and general goals towards becoming a veterinarian. Ashley has a sweet Catahoula mix named "Cayo Costa," a kitty named "Mako," and a twin sister named Alexis- who has been very supportive and influential in her career choice.  Ultimately, Ashley would love to open a sanctuary and rehabilitation center for animals and can often be spotted volunteering around the community at places like the Shy Wolf Sanctuary.

Leidy: Technician
This is our lovely Leidy! With her kind soul and compassionate nature, she was born with a gentle touch much valued by all our visitors. She cares for our hospitalized patients, as well as those on vacation; and her kindheartedness and attention has made for some very satisfied fur-friends that look forward to seeing her again! Leidy can't imagine herself outside of working with animals and plans on finding the perfect niche in the field for her long-term career. After long days of hard work, Leidy comes home to her two happy dogs, Simba a yellow lab and Buddy a lab mix; as well as her funny little kitty Luna!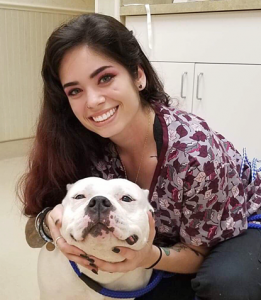 Alexis: CVA & Kennel
Meet Alexis! Having always had a big heart and a love of animals, our field called to her and she received her certification in veterinary assistance (CVA) at Cape Coral Technical Institute across the street from us! We were lucky to have had her and her twin sister Ashley M. with us during their internship, and now both as permanent members of our SBAH Family! Alexis has a special love for exotic animals, especially reptiles and amphibians! In addition to having had many lizards over the years, Alexis also has 3 loving puppers, and 4 kitties, as well as 2 ducks and a tortoise named "Rex!" In the future, Alexis sees herself continuing her good work with animals, possibly extending her knowledge into the realm of wildlife and exotic rehabilitation!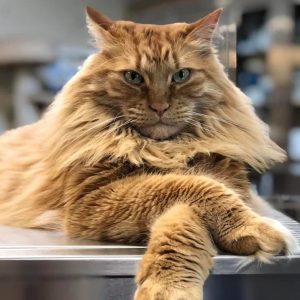 'Fassa: Clinic Cat
If you've been in to see us, odds are you've already met 'Fassa at the front desk! In addition to excelling at general cat things, 'Fassa also has exceptional napping, stretching and purring skills. This fine boy is not only a blood donor for cats in need, but also a good friend and moral support to everyone here at SBAH. You'll likely find 'Fas hard at work in the lobby cat-scanning general, day-to-day operations, or in the back supervising the staff. While not in his orange fur-suit, 'Fassa enjoys sporting a lion-cut around the hospital. He looks forward to meeting you and your fur-family!